Reliance Communications has brought great offer for especially cricket fans to access WC2015 Cricket score and updates.
Reliance partnered with Twitter to offer Unlimited Free Twitter Access to all its customers during world cup matches.
Dont worry, if you dont have a twitter account, you can also access free cricket news and score updates without even logging into any twitter account.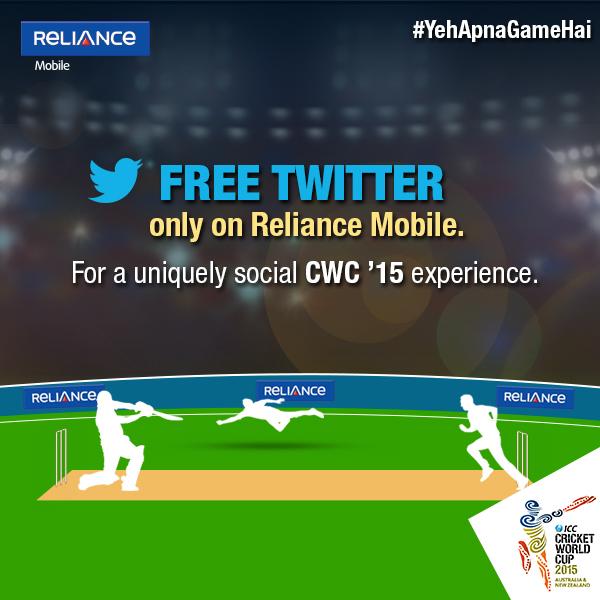 Reliance Users can access World Cup Schedules and Live Scores using this link :
rcom.co.in/cricket throughout the worldcup.
This Offer will be valid from 13 february 2015 to 31st March 2015.You dont need to activate any twitter data pack to access your twitter account too,you should have minimum balance of Re.1 to access twitter free of cost.
Using this service, Reliance Customers can engage with live scores,commentators,Match photos and videos to stay updated round the clock without any browsing charges.You can also send and receive tweets and participate in various twitter contests with your account.
Gurdeep Singh, Chief Executive Officer,Customer Business, Reliance Communications stated :
" We are delighted to partner with twitter to offer this unique service to all cricket fan for a unique World cup experience. Cricket is best enjoyed with friends and the fun doubles when you share ,exchange with all friends instantly.It is with this thiught that Reliance has made twitter free and inclusive,so that our customers can get the most of World Cup 2015. "
In Addition to this, Reliance has launched an exclusive portal for its customers to experience exciting content of this world cuo like match highlights,commentatory and inside the match photos. It can be accessed here : icccwc2015.rcom.co.in .
Reliance has also announced an exciting offer for customers , users recharging with these pack will get free 2MB data for every run scored by india during match.This offer is applicable on selected packs only.